Lake Bolshoe Lugovoe surrounding the land site is clean, and has picturesque shores. The lake is a popular place for tourists and fishermen, it has a lot of fish.
The land site is perfect for the construction of elite club-type cottage village. Unique location, shape and landscape of the land site present a natural combination of competitive advantages.
Characteristics of the land site on Bolshoe Lugovoe lake
| | |
| --- | --- |
| Location | Leningrad region, near Razdol'e village |
| Land site area | 13 ha |
| Status | urban lands, PHC |
| Utilities | Possibility to connect to the electricity mains. Letter of OAO "Lenenergo" on the possibility to connect to the electricity mains |
| Transport accessibility | excellent |
| Possible use | Elite club type cottage village. Recreation zone with cottages for year-round stay, other recreational facilities |
| Advantages | Excellent transport accessibility, unique location and nature, strong zones of attraction: Resorts Igora and Korobitsyno. Recreational facility construction will be supplied by year-round influx of tourists |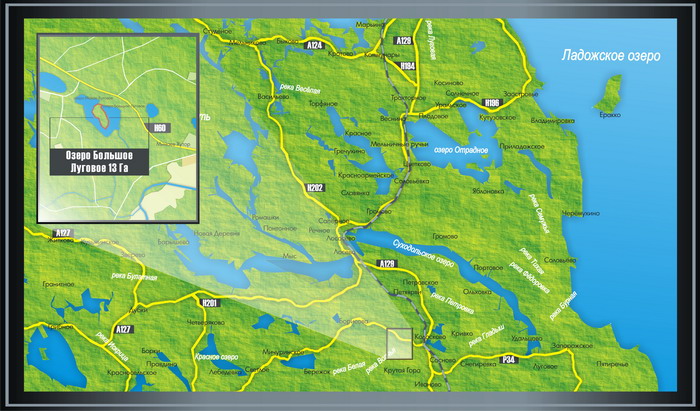 The land site on the map of the Leningrad Region
Photos
Scheme of the land site on a road atlas
Additional information
For more information on buying plots for recreational facilities (or construction of cottage villages) in the Leningrad region, call +7 (812) 320-01-29, 947-86-80.