Land site on lake Bannoe is a perfect place for recreation, just 30 km away from St. Petersburg!
Name of the lake - Bannoe (Bath) - perfectly reflects the idea of ​​constructing a recreational complex with sports and wellness facilities, spa, aqua park, and cottages for recreation and accommodation.
The plan of development for the forest area, on the basis of which construction can be done, was prepared and approved. Business plan of the project is calculated. This place has excellent transport accessibility and can be connected to the electricity mains.
Characteristics of the land site on Bannoe lake
| | |
| --- | --- |
| Location | Leningrad region, near Vaskelovo, 30 km away from St. Petersburg |
| Land site area | 15 ha (including a lake of 3.9 ha) |
| Status | urban lands, for recreational purposes |
| Utilities | under "Lenenergo" conditions |
| Transport accessibility | excellent |
| Possible use | The land site is perfect for building a SPA hotel, water park or recreation center |
| Advantages | Inland lake, picturesque area. Proximity to the city. A project for a country recreation center was prepared, business plan was designed. Constructed buildings and structures would be legalized in the property. |
The land site on the map of the Leningrad Region
Photos - Bannoe lake
Scheme of the land site on a road atlas
Photos - land site on Bannoe lake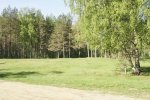 Documents and additional information
For more information on buying plots for recreational facilities (or construction of cottage villages) in the Leningrad region, call +7 (812) 320-01-29, 947-86-80.