This land plot is an example of charming Karelian isthmus nature – tall pine trees and hilly landscapes offer fresh air and fantastic views. Therefore, the area is popular among tourists and especially fishermen, as in the clean water of the Bolshoe Lugovoe lake there is a lot of fish.
Location on the peninsula does not only create natural borders for this land plot, but also gives an opportunity to feel disconnected from the rest of the world and truly enjoy the time in the nature. At the same time, this place allows to create an attractive houses situation plan when developing a cottage village.
After spending some time being disconnected, various dynamic activities can be found in one of the popular nearby locations like Igora outdoor recreation center and ski resorts Zolotaya Dolina, Snezhniy and Krasnoe Ozero.
Characteristics of the land site on Bolshoe Lugovoe lake
Location

Priozersky district of the Leningrad region, close to Razdol'e village
Around 60 km away from St.Petersburg

Land site area
13 Ha

Status

Urban lands, for private housing construction

Utilities
There is a confirmation from the electricity company on the possibility to connect to the electricity mains.
Transport accessibility

The land plot is located close to:

an asphalt road connecting Razdol'e, Sosnovo and Korobitsino villages
the Priozersk highway
the new Sortavala highway

Possible use

Cottage village construction
Recreation center construction
SPA center and aqua park construction

Advantages

Unique location on a peninsula
Picturesque area
Excellent transport accessibility
Proximity to popular recreational facilities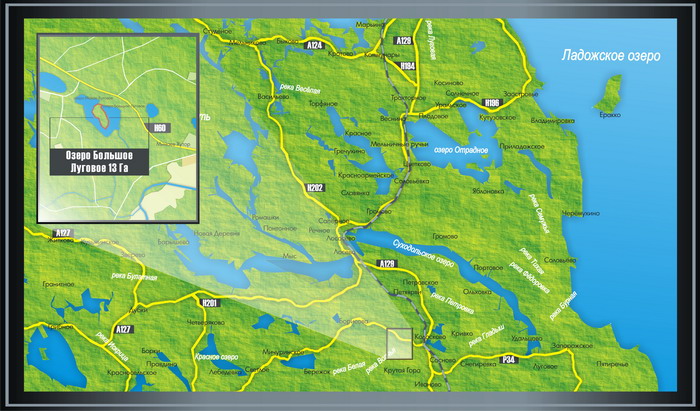 Photos
For more information feel free to contact us by phone: +7 (921) 967-82-36 or through Contact us section.